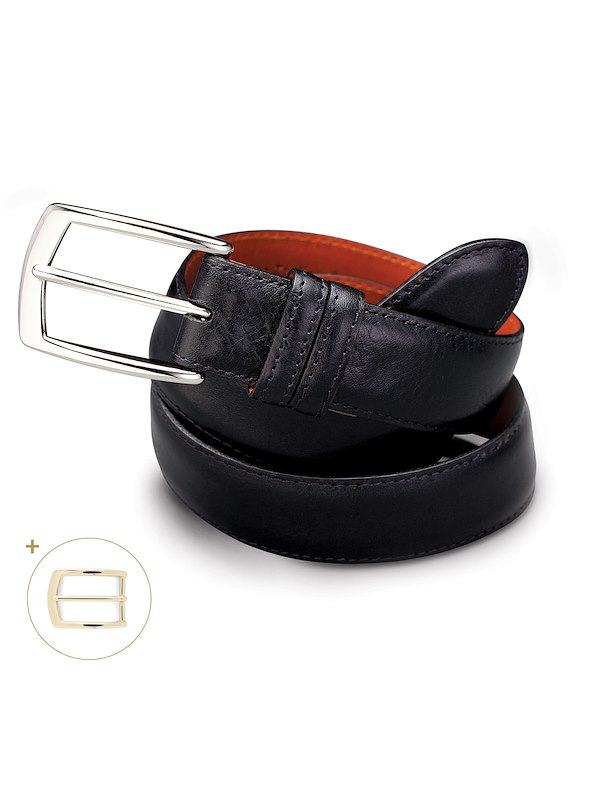 Leather Featheredge Belt - Black
Color: Black
28
30
32
34
36
38
40
42
44
46
48
50
Our Italian Leather Featheredge Belt offers a timeless design and quality materials for enduring style. This traditional belt comes with two interchangeable buckles which allow you to alternate between polished brass and polished nickel.
Fine Italian leathers specially tanned for superior finish and durability
Expertly handcrafted in Texas
Each belt is shipped with our standard buckle style in two finishes – polished brass and polished nickel
$109.00 for size 44 and up
Please allow 4 to 6 weeks for delivery of special order sizes 28 - 30 and 44 - 50
We recommend ordering 1" to 3" larger than your J.Hilburn trouser waist for optimal belt size. If you don't know your J.Hilburn trouser waist, contact your Stylist or find a personal Stylist today.
HOLIDAY DELIVERY:
Order this stylish piece by
Sunday, December 20
to ensure delivery by December 24. Please note that shipping cutoff dates vary by product.
More info »